The Soapnut..... a 100% renewable resource
Can you imagine you could get away with using no chemicals in your Laundry. Now imagine there is a single product that would help you with all the cleaning in your house.
| | |
| --- | --- |
| | |
This natural product would wash as effective as a normal detergent and would furthermore save you 50% of the costs. Its Soapnut .The Soapnut is a 100% renewable resource, the trees cause no pollution. Soapnut is the fruit of the tree sapindus, from the family Sapindacea. This tree found primarily in India and Nepal where they have been used for centuries as a washing detergent. The tree can reach a height of 25m and a diameter of 1 to 2 m and flowers for at least 70 years. After ten years the tree has the first fruits. The trees are growing wild for more than 1000 years. The fruit called soapnut , is a small fruit with 1-2 cm diameter, yellow ripening brownish containing black seed. In April & May the tree is adorned with white flowers, and the ripe soapnuts are harvested in October. The skin of the shells contains 15% saponin which is similar to soap. Saponin is the active cleaning ingredient in Soapnuts, and it has a dermatologically sound lathering and cleansing effect
There are so many types of soapnuts. The best for washing and cleaning is sapindus mukorossi. Inside the shells are saponin, which is known for its ability to cleanse and wash. Using soapnut instead of lots of different chemical and over packaged cleaning products in and around your house is better for you, your family and the environment. The trees on which the soapnut fruit is grown help to improve the world's environment by removing carbon dioxide from the atmosphere. Expensive shampoos, conditioners, shower gels, soaps and body lotions can all be forgotten once you start to use Soapnut. Soapnut removes dirt from clothing - it is not only highly effective but also gentle. Because it is mild and natural, it preserves the colors and the structure of your valuable clothing longer than chemical detergents. It's very gentle that you will no longer need to use laundry softener. Soapnut has also been used traditionally in India to reduce the symptoms of psoriasis, eczema, chronic itching and other skin conditions. Soapnuts is Pure and natural washing detergent that leaves your laundry fresh and clean. Its also good for skin because its allergy free. Soapnut is Environment-friendly. cultivated through sustainable agriculture, Economical & Ecological


Top

Ayuclean liquid Detergent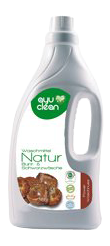 Ecological washing with over 98% extract of the Soapnuts, without synthetic tensides or aromatic or colour substances, tested for dermatitis and allergies.
Can be used for all textiles.
100% Natural detergent with Saponin. Specially protecting the colours,
Recommended for cleaning the coloured or black laundry.
Since the ingredients of detergent are skin friendly so also suitable for hand wash.
The pureness of nature in a powerful cleaner!
For environment Friendly, natural and healthy life
This ayurvedic herbal detergent is a gift of nature, it's fully produced with natural herbs,
Suitable for allergy sufferers, dermatologically tested
1.5 Liter for about 45 wash Loads
Ingredients: Extract from certified organic soap nuts with >6% vegetable saponins,
*lavender flowers, *lavender oil, *turmeric oil, *neem oil. *from certified organic farm
Top
Dried Morels (Morchella Conica)
Various Names
Spanish-Cagarria, French- Morille conique, German- Speisemorchel, Die Morcheln, Italian-Spugnola Comune
Turkey -Kuzu Gobegi, Switzerland-Spitz Morcheln, Japanese-Amigasa, Chinese-Morchella Conica
India - Black Morels (Guchhi), USA - Dried Morels

Black Morels
Common Names: "Black morels," "early morels," "morels," "grey morels."
Scientific Names: Morchella angusticeps, Morchella elata, Morchella conica.
The black morel can be anywhere from half an inch high to over a foot high. Usually black morels are very dark brown, nearly black, with darker ridges and lighter pits, and a whitish stem. Sometimes they're pointy, but other times they can be rounded. They are hollow. They come up as early as the last week of March.
A word of caution regarding black morels: Some people have allergic reactions, apparently, to these mushrooms. While the reaction is not usually severe, it can involve stomach upset and a loss of muscle coordination. Instances are rare, and often involve the combination of black morels and the consumption of alcohol.
Yellow Morels
Common Names: "Yellow Morel," "Morel," "Sponge Mushroom," "Gray Morels," "Brain Mushrooms,"
Scientific Names: Morchella esculenta, Morchella deliciosa
The yellow morel is probably the most prized of all edible mushrooms. Its flavor is delicate, and its texture is meaty. Yellow morels range from minuscule to enormous--up to nearly a foot high. They follow the black morels, usually reaching the peak of their fruiting season. Though they are usually yellow, yellowish brown, or honey brown, they are sometimes grayish or even whitish--especially when tiny and fresh, or when covered by leaves. They are hollow, of course, and their stems are white. In some varieties, the stem is enlarged towards the base, especially late in the season, and when this is the case there may be several flaky layers of flesh in the base of the stem. They are "pitted," or "honeycombed." When young the ridges may be almost white and the pits nearly black. At maturity, they are nearly uniformly yellowish brown, though the pits are still darker than the ridges. Some mycologists regard Morchella esculenta and Morchella deliciosa as two separate species. M. deliciosa is distinguished by being smaller, pointier, and involving pits that are prominently vertically arranged. Adjacent picture illustrates the two species side by side

Morchella Deliciosa
"Deliciosa Morels" are small or medium-sized yellow morels with frequently pointed caps, featuring sparse ridges and pits that are usually arranged more or less vertically. Deliciosa Morels are edible and good.
Ecology: Probably mycorrhizal and saprobic at different points in its life cycle; found under hardwoods.
Cap: 1.5-5 cm; variable in shape but generally conical and pointed, at least when mature; pitted and ridged, with the pits and ridges usually elongated vertically; pale when young; when mature with tan to yellowish ridges and similarly colored (or darker) pits with hollow stem.
Stem: 2-5 cms whitish to yellowish
Spore Print: Pale yellow to orange.
Microscopic Features: Spores 21-24 x 12.5-14 µ; smooth, elliptical, without oil droplets
Top
Acacia Concinna

Acacia concinna has been used traditionally for hair care in the Indian Subcontinent since ancient times.
It is one of the Ayurvedic medicinal plants. The fruit is known in India as shikakai, "fruit for hair",
is a traditional shampoo used in India. In order to prepare it the fruit pods dried, powdered and made into a paste.

| | |
| --- | --- |
| | |

While this traditional shampoo does not produce the normal amount of lather that a sulfate-containing shampoo would,
it is a good cleanser. It is mild, having a naturally low pH, and doesn't strip hair of natural oils.
Usually no conditioner is needed, for shikakai also acts as a detangler.
Acacia concinna extracts are used in natural shampoos or hair powders . The plant parts used for the dry powdered or the extract are pods.
The pods contains high levels of saponins, which are foaming agents that are found in several other plant species.
Saponin-containing plants have a long history of use as mild cleaning agents. Saponins from the plant's pods have been traditionally used as a detergent.luminum and asbestos free. They are pleasantly simple, ordinary and truthfully effectual. They literally provide long lasting shield.


Moringa Oleifera Leaf Powder & Capsules

India's ancient tradition of ayurveda medicine sites 300 diseases that are treated with the powdered leaf of the moringa tree.
Moringa leaf contains:
The vitamin C in oranges 7 times more
The calcium in milk 4 times more
The vitamin A in carrots 4 times more
The protein in milk 2 times more
The potassium in bananas 3 times more
Pure powdered capsules are organic and absolutely safe. There are no known side effects.
Moringa, with its high Vitamin A, combines with it's extraordinary Iron content (9 times more Iron than that of Spinach), helps to improve the hemoglobin content of the blood.
The leaves are the most nutritious part of the plant, being a significant source of vitamin B6, vitamin C, provitamin A as beta-carotene, magnesium and protein, among other nutrients reported by the USDA, shown in the table, When compared with common foods particularly high in certain nutrients, fresh moringa leaves are considerable sources of these same nutrients

Nutrients
Common food
Moringa Leaves
Vitamin A
Carrot
1.8 mg
6.8 mg
Calcium
Milk
120 mg
440 mg
Potassium
Banana
88 mg
259 mg
Protein
Yogurt
3.1 g
6.7 g
Vitamin C
Orange
30 mg
220 mg

Advantages :
• Promotes energy
• Antioxidant
• Soothing ability that promotes good sleep
• Lower blood pressure
• Anti-inflammatory
• Detoxifying effect for purifying water for varied purposes
• Promotes healthy circulatory system
• Promotes natural Serum cholesterol
• Rested nervous system
• Ulcers are healed
• Reduction in arthritis pains and inflammations
• Tumors restricted
• Balanced hormone and gland system
• Lowers the appearance of wrinkles and fine lines
• Increases the Natural Defenses of the body
• Promotes the normal functioning of the liver and the kidney
• Controls the normal sugar levels of the body
• Beautifies the skin and whole body keep signing Coagulant agent

Powder Shampoo

Nourish the hair and scalp and prevent premature grey hair with this powder shampoo formulated with Alma, is known for its rejuvenation properties using hundreds of years old formula. It protects and strengthens the roots, prevents hair loss and minimizes and prevents dandruff. Hair is left silky and shiny. Free from surfactants, preservatives, fragrances, alcohol, and water. This shampoo is suitable for all hair types.

*All Natural
*Mildly cleanses hair
*Nourishes scalp and hair
*Strengthens hair at the root
*Prevents hair loss
*Leaves hair feeling conditioned
FREE FROM: Parabens, Phthalates, Surfactants, Petrolatum, Paraffin, Synthetic Fragrances, Alcohol, Palm Oil, GMO, No Animal Testing




Ingredients:-

Amla which is called the "fruit of youth and beauty", nourishes hair and scalp, adds texture and volume to hair.

Fullers Earth is an effective cleanses and strengthens hair. Provides shine.

• Solum Fullonum (Fullers Earth)

• Acacia Concinna (Shikakai)

• Sapindus Mukorossi (Reetha)

• Emblica Officinalis (Amla)

• Terminalia Chebula (Harithake)

• Terminalia Bellirica (Bibhitake)

• Phyllanthus Urinaria (Bhui Amla)

USAGE
Sprinkle approx. 1-2 teaspoon of powder (use more depending on hair length) on your palm or directly on wet hair, and massage. Rinse and repeat to ensure hair and scalp is fully cleansed and nourished.


Oregano Vulgare

Oregano is an important culinary herb. It is particularly widely used in Turkish, Palestinian, Syrian, Greek, Portuguese, Spanish, Latin American, and Italian cuisine. It is the leaves that are used in cooking, and the dried herb is often more flavourful than the fresh

| | |
| --- | --- |
| | |


Oregano is often used in tomato sauces, fried vegetables, and grilled meat. Together with basil, it contributes much to the distinctive character of many Italian dishes.

It is commonly used by local chefs in spicy flavor.

Oregano combines nicely with pickled olives, capers, and lovage leaves. Unlike most Italian herbs.Oregano is a widely used ingredient in Greek cuisine. Oregano adds flavor to Greek salad and is usually added to the lemon-olive oil sauce that accompanies many fish or meat barbecues and some casseroles.

it can be usually found on table, together with paprika, salt and pepper.

Oregano is a perennial herb with creeping roots, 30-90 cm high, branched woody stems and opposite, petiolate and hairy leaves (1.5 cm long). The flowers are pale purple and the flowering period extends from late June to August. Each flower produces four small structures.
The foliage is dotted with small glands containing the volatile oil, which gives the plant aroma and colour.
Oregano is used in meat, sausages, salads, dressings, stews and soups. In food industry, oregano oil and oleoresin is used in food and beverages.
Oregano oil is used in alcoholic beverages and in baked goods. It is a most common spice for pizza.

The oregano oil possesses carminative, stomachic, diuretic, diaphoretic properties.
It is used in whooping cough and bronchitis. It is also used as an external application for healing wounds.
It has antioxidant and anti-microbial properties.


Himalayan Crystal Salt

Himalayan Crystal Salt is the most beneficial, cleanest salt available on this planet. It was formed about 250 million years ago where the energy of the sun has dried up the original, primal sea.

This crystal salt is absolutely pristine and natural, identical in composition to the ancient primal ocean. It contains all the elements found in our bodies. This special salt is only waiting for the moment to have its inherent stored energy and its bio-photon content set free, by adding water to it. Such crystalline brine is a pure ocean of energy.

Today, Alternative Health Therapists and European Doctors are successfully applying the ancient knowledge of "Sole" or Brine water, derived from combining Himalayan Crystal Salt with good quality distilled or spring water. Access the hidden power of these awesome Natural Salt Crystals. This Natural Crystal Salt has been exposed to enormous pressure for millions of years. This pressure was the cause of the formation of this crystal salt. The higher the compression, the more perfect its crystalline structure, and its inherent information/energy, giving these rock crystals the most perfect geometric structure found.

Crystal salt floats in transparent, whitish, pinkish or reddish shiny veins in the salt mountain and crystallizes in areas where sufficient pressure was available to form this perfect crystalline structure. The more transparent and colorless the crystals are, the higher their purity. The more geometrically perfect the cube shaped crystal is, the higher is the information and energetic content. Compare its structure to a diamond.

In this crystal salt, the elements are available in such tiny particles (colloidal size) that they can be easily absorbed by the human cells and metabolized. Crystal Salt was once called "King Salt" because it was reserved for Royalty. Common Citizens only got Rock Salt.

World's Highest Elemental Content With 84 Of The Nutritional Elements We Need Daily

Pure, Unpolluted, Without Environmental Impact - From a time when the Earth was pristine.

Contains no impurities from environmental pollution.

Use it for:
Rejuvenating Baths, Restoring Skin, Drinking Therapy, Internal Salt Water Bathing, Flavoring Food and much more.
High Inherent Stored Information From 250,000,000 Years Ago - Himalayan Crystal Salts are primarily a storage medium for life force energy. This special salt is waiting for the moment to have its innate, stored energy, its bio-photon content, set free, by adding water.
Hand Mined, Hand Washed and Prepared - 100% Genuine Himalayan Crystal Salt
100% Pure - Contains up to 84 elements needed by the body - available in either Whole Crystal Stones, Course Stone Ground for Bath Therapy or Fine Stone Ground for Seasoning and Internal use.

For thousands of years salt has been known as a panacea. Alchemists called it "the fifth element" –besides water, earth, air and fire- because its qualities were comparable only to ether, the actual fifth element. Why are we so drawn to the ocean? Because our subconscious mind instinctively wants to return to the specific vibrational state of the ocean from which we once emerged. This is where we can return to recharge our batteries and regenerate. It was only one hundred years ago with the advent of industrialization, that we initiated our disconnection from nature and her ways. Fortunately, we are witnessing a trend to return back to natural, holistic methods for living and caring for our body, including a shift back to utilizing natural salts in this process. People everywhere are reconsidering the healing effects of natural crystal salt. We can find it in skin care lotions, for use as bath salts and is even used in inhalation or cleansing treatments for illnesses of the respiratory system and for a variety of other indications.


LUFFA SPONGES

The luffa has many names, both common and scientific. It is known as smooth luffa, loofa sponge, loofa, luffa, sponge gourd, Chinese okra, elephant okra, and many other common names


| | |
| --- | --- |
| | |


These natural sponge wonders of the vegetable world have many uses. They'll make your skin squeaky clean or shine up your dirty dishes. The luffa fruits are soft and edible when young and can be cooked and eaten. Loofa has been an important food source in Asian cultures. When mature, the fruits become a tough mass of fiber that makes a great scrubbing sponge. Some luffa varieties may produce fruits that are too bitter to eat. Edible luffa can be found in markets with Asian style vegetables Luffa are most excellent in the bath or shower. The exfoliating action leaves your skin feeling the cleanest and tightest it could possibly be. Having someone scrub your back with a luffa sponge is an incredibly pleasurable experience. A sponge on a handle or rope makes a great back scratcher. They can be cut into many shapes for scrubbing pads, bath mats, and other craft items. Luffa sponges are great for washing items like Tupperware ®. Loofa can be used for cleaning almost everything, including cars, boats, plastic buckets, and anything that needs scrubbed but can't withstand steel wool. Non stick cookware is one example. Powdered luffa has also been used in Chinese herbal medicine


Areca Leaf Plates

This leaf sheath has its own natural grains and characteristic texture, very much similar to those seen in furniture grade wood. An added advantage of areca leaf is that it can be used to bake foodstuff and can even tolerate microwave cooking. With such amazing properties it is no wonder that this raw material has been used to manufacture a variety of day – to –day use such as disposable plates, rain caps packaging materials etc.
These products are Economical, Environment Friendly, saves transportation, saves water & cleaning work. Ideal for Caterers, Picnic, Tours & Party organizers. Plates are extremely sturdy & comparatively lighter leak proof property and ability to
withstand hot and cold temperatures. These plates are biodegradable and can be easily disposed off . Over a period of time decays with the soil like any other natural Leaf. The outer surface of the sheath is greenish or brown, waxy and tough, while inner surface is creamy in color and has natural grins and glossy finish




BIG HEXAGONAL PLATES
Various Sizes

SQUARE PLATES
Various Sizes



ROUND PLATES

Various Sizes

RECTANGULAR PLATES
Various Sizes



ROUND PLATES
Various Sizes



ROUND PLATES
Various Sizes



Top